Please [NSFW]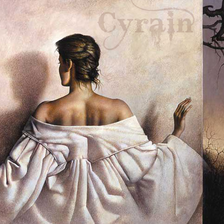 Entry posted by Cyrain ·
102 views
This is, if possible, even more lewd than the first one. You have been warned. >:3
She was free.
Her effervescent joy was marred only by the sour tang of Logan's sad frustration.
I upheld my end of the deal, so what if he isn't thrilled with the results? What did he expect, that I'd be thrilled to have my options ripped from me, forced to take his cock every night?
At least it had stopped hurting. He had made some effort, but he was just too big and thick, his need too great to ease her into the coupling. She remembered with a twinge the first week under him, how raw and sore she had been, before her body adjusted to his demands.
Approaching the first of the farms along the outskirts of the large town, she followed the stone fence until it met with the wider road. Dawn was still several hours away, her feet and legs burned with the effort of walking so many hours so quickly, and her stomach growled, reminding her that dinner was a distant memory.  With few options left to her, she makes space beneath the wide branches of pine trees, and tried to sleep, the ground hard and cold, and her fear a living thing, chewing on her heart.
The next morning dawned bright and clear, the soft blue and pink blush of sunlight peeking over the horizon, lifting her heart, though it did little to ease the ache in her belly, or the tight muscles of hard night. Entering the large town, her hope further eroded by the distrust and underlying tension from the residents as she kept her ears open, listening for the vague leads and hints of rumors that might lead to any kind of job that might sustain her for a time.
It was a fruitless day of searching, checking all the pubs and a few of the shopkeepers in town, earning nothing for her efforts but sneering civility and curt dismissals. When she accidentally found herself talking to the Madam of a brothel in a seedier part of town, she made her excuses quickly and with the woman's cutting "all for the best, what man would want you anyway?"still ringing in the still air, she wanders. No where to go, no one to give her a chance, she didn't notice the three men that followed her from the brothel. A scuffed boot let her know they were there, and once she realized, the cat calls began.
"What a pretty little hornless boy we got here boys!"
"I've got a horn for 'em alright"
"Nah guys, prissy little bitch, doesn't even know what she is. Cutting your hair won't show off what u don't have, stupid cunt."
Fingers brush over the handle of her knife, still concealed in the band of her pants. In another moment she felt hands close around her wrist, crying out as her shoulder was wrenched back and up, the man behind her reeking of sweat and stale booze. Driving her into a wall, she could feel his 'horn' growing, his other hand groping over her modest curves, catching her other wrist as she tries to fight back. Flipping her around, he gathered both wrists in one big, rough, filthy hand and held them above her head, giving her a good look at his wide, mean, sour face, recognizing in him the same type of cruelty that drove the slave owners to whip the merchandise ruthlessly. Watching her eyes, she could feel his gleeful pleasure pressed against her as her fear mounted higher and higher. Drawing his knife, he made a slow show out of parting her shirt, the threads screaming as he slices down and between her breasts.
"Maybe it just takes a real man to make you into a real woman, huh?"
Grinning like he had made the best joke in the world, his knife hand going to his trousers as the other two men watched in sickening anticipation.
Mind struggling with disbelief, "they are actually going to rape and kill me, just to prove they weren't attracted to a boy," she thought, taking advantage of his glance downward to wrench her left arm free, the same time she drives her knee into his groin. Her hand free, she draws her black knife, feeling it glide smoothly into his shoulder, the obsidian red as she pulled it free, holding it to his throat as she urges him and his companions back. Swallowing back bile as she saw the blood and pain she caused, she shook her head and making sure her exit was clear, she gave the wounded man a kick for good measure and took off toward the main street, trusting in the crowds to hide her until she could get--
She paused at the thought, that she would go back to the mercenaries, but taking a deep breath she continued on, treading the same path she'd taken 12 hours earlier.
~~~~~~~~~~~~~~~~~~~~~~~~~~~~~~~~~~~~~~~~~~~~~~~~~~~~~~~~~~~~~~~~~~~~~~~~~~~~~~~~~~~~~~~~~~~~~~~~
Logan's temper, while usually a steady burn, held in check by an easy personality and the needs of those around him, was now sparking, sending flares that bit into the trust and morale of those around him. His own needs unfulfilled, he snarled and snapped his way through the day, trying not to think of the empty bed awaiting him that night. With the mood that was riding him, not even the seediest of brothels would let him in the front door, and risk the lives of girls and patrons alike. His member was dry tinder, just waiting for a spark to set him ablaze, aching for more than he could give.
He stayed out far later than he normally would that night, trying not to consider the sadness he felt when thoughts of the empty room crept in, souring what already promised to be a miserable night. The rainclouds overhead matched his grim mood, and the fat drops that fell upon him as he entered the simple cabin were enough to tease thoughts of her to the forefront of his mind.
Was she well? Was she out there now, getting soaked through? Did he let her go just to die?
Shaking his head, he downed a glass of whiskey and stripped free of the confines of the day. With worry, exhaustion, frustration and sadness wearing on his heart, Logan fell into fitful sleep, plagued with teasing green eyes and a growing, guilt-tinged emptiness.
~~~~~~~~~~~~~~~~~~~~~~~~~~~~~~~~~~~~~~~~~~~
She slipped in amidst a crash of thunder. Clothes damp from the rain, she was grateful for the dying light of the fire and the gentle warmth that lapped over her skin, producing a wave of shivers. The owner of the humble quarters was asleep on the bed, dreaming in fitful starts. Sitting by the fire, she warmed herself, finding a moment of peace as she watches him twist and turn, unconscious mind wrestling an active body.
In the short time she was with him, he had never treated her as less than she was. She was a prisoner, yes, but she was still a person, with all the dignity and respect that commanded.
Brushing the bruises on her wrists, she watched as he turned onto his back, saw the bulge between his legs that had dominated her existence the past few weeks, flushing a little at the teasing tingle along her thighs.
"Cyr-" the breathy sound of her name made her jump, heart pounding before she realized he was still asleep. She couldn't go into town, couldn't make it on her own. Adrift at sea.
She could do worse. But something had to change.
Standing, she slowly strips out of her clothes, quivering as her skin pebbles from the cool, damp air. Pulling the thin blanket back to expose him, she glimpses his passive face, confirming he slept on, though standing stiff and proud in the firelight.
Indulging her curiosity, her fingertips slowly trail from base to tip, tracing over the hard ridge, stroking the smooth skin. Her teasing, light touches drawing a bead of wet to the tip. Biting a lip briefly, she leans forward, slowly, carefully drawing her tongue over the  engorged head, almost distracted from the taste of him by the velvet-smooth feel of his skin against her tongue.
Potent, almost earthy, the tang of man teased her tongue as she wraps her lips over the tip, coaxing more from him as her mouth flirts with his head.
When next she looked, his eyes were open, watching her with a hungry curiosity. With a startled pop, she jumps up and makes to move to the other side of the room, stopping as he catches her arm. It wasn't a hard grip, only meant to make her pause. Looking at his face, she struggled with shock at seeing the vulnerability leaking around the desperate hunger in his eyes.
"Please."
Her own desire nibbling the edges of her self-control, she finally nods, putting a hand to his chest as he moves to grab her waist.
Shaking her head, she turns the word back on him, asking for herself, for the moment to be hers, for his patience.
"…please."
Trailing her fingers slowly up his chiseled abdomen and up over his chest, she feels the hard muscle shift beneath the exquisite sheathe of smooth skin, straddling just in front of his stiffness. leaning down, she followed her fingertips path with her mouth and tongue, placing his hands along her hips as she nibbled at his collarbone, shivering as he stroked her spine, her lips finding his neck. The feel of his heartbeat against her lips was all the more sensual when it quickened as she pressed firmly against his member, feeling it nestled in the soft crease of her bottom, so close he could feel her heat against his shaft.
Pulling herself up slightly, her mouth seeks his in a searing kiss, growing more demanding as their excitement grows. Her hands buried in his hair as his hands lightly tease over her ribs, thumbs brushing across the hard nubs as her hips start trying to grind against him. She finally breaks the kiss, and positions herself over him, desire etched across her face as he follows her body, tongue continuing what his thumbs had started, pulling and teasing at the sensitive nipples. Slowly sheathing him inside her, she could feel the quiver of pleasure shudder through him as she starts moving, the soft noises coming from her throat fraying his self-control as she rode him.
Breath heavy as she takes her pleasure with him, he holds her close, the intimacy both terrifying and wonderful as he watches her face raptly, green eyes locked with grey as she quivered. With husky breath she leans in, body tense, primed, waiting, she nibbles his ear and begs with voice dripping with pleasure.
"P-please."
His blood searing away the last of his restraint, he drives into her, shuddering as she crests, toes curling as she comes with absolute pleasure, her moans and the feel of her surrounding him drove Logan over the edge, holding tight as he floated in ecstasy. She was everywhere, senses overloaded with her and it was all he could do to not be set adrift. As they slowly calmed, heartbeats slowing together, still entwined, he considers her, eyes tracing every line, as though he could capture the way her dark hair curled against her forehead, or the way her heartbeat felt against his tongue.
It was the same. It was completely and irreversibly different.
~~~~~~~~~~~~~~~~~~~~~~~~~~~~~~~~~~~~~~~~~~~~~~~~
When mid-morning rolled around and Logan was still no where to be found, it fell to Jonathan to approach the simple cabin. After yesterday's temper, it was impossible to know what frame of mind he might find their fearless leader.
With a peremptory knock, Jonathan opens the door and steps in, eyes briefly scanning the room before lighting on the bed. Logan wasn't alone. One arm caught beneath the girls body, Logan gave him a bemused look as he slowly pulled his arm free, standing and stretching as the girl quickly filled the warm spot he vacated. Focusing on the girl, lest he get distracted by the nude, very masculine wolf still looking for his clothes, Jonathan blinks, slightly taken aback that it wasn't just a whore that looked like Cyra, but Cyra herself who was quickly taking over the large bed.
Rolling his eyes, he shoves a pair of pants at the wolf, whose interest grew each time he glanced at the bed. Jonathan waited at the door while Logan got partially dressed, and walked out to the crisp bright morning. Closing the door with a quiet 'thud', Jonathan follows, shaking his head to clear the heavy scent of sex from his lungs, and the mental image of their busy night from his mind.
"I thought you got rid of her," Jonathan said flatly, fighting a feeling he had no right to, watching his friend carefully.
With a wide, satisfied grin, he looks at Jonathan, stretching in the gentle breeze.
"She came back," the smug, pleased happiness the man was exuding was too much for Jonathan, who turned on his heel to head back to camp, his original message forgotten.
"Just cause she keeps your cock happy, doesn't mean she's worth anything," Jonathan shakes his head, muttering to himself.
"I think he'd disagree," grinning, Logan claps him on the back, giving a friendly push as he perks up, hearing faint noises from the cabin. Already stirring, he gives a small barking laugh and trots back to the cabin.
1